The groovtec hot melt adhesive system is the fastest and simplest way to assemble 'v' grooved profiles in plasterboard and drywall installations. Designed to be used in workshops and on-site, groovtec adhesives provide a strong and reliable alternative to traditional bonding methods such as tapes, tacks, and screws.
Groovtec adhesives have been developed to have high molten tack and low viscosity. This not only ensures an almost instant hold after compression, but also allows the adhesive to penetrate the board, creating a bond that is stronger than the plasterboard itself. Once set, the finished product can easily withstand transport and installation.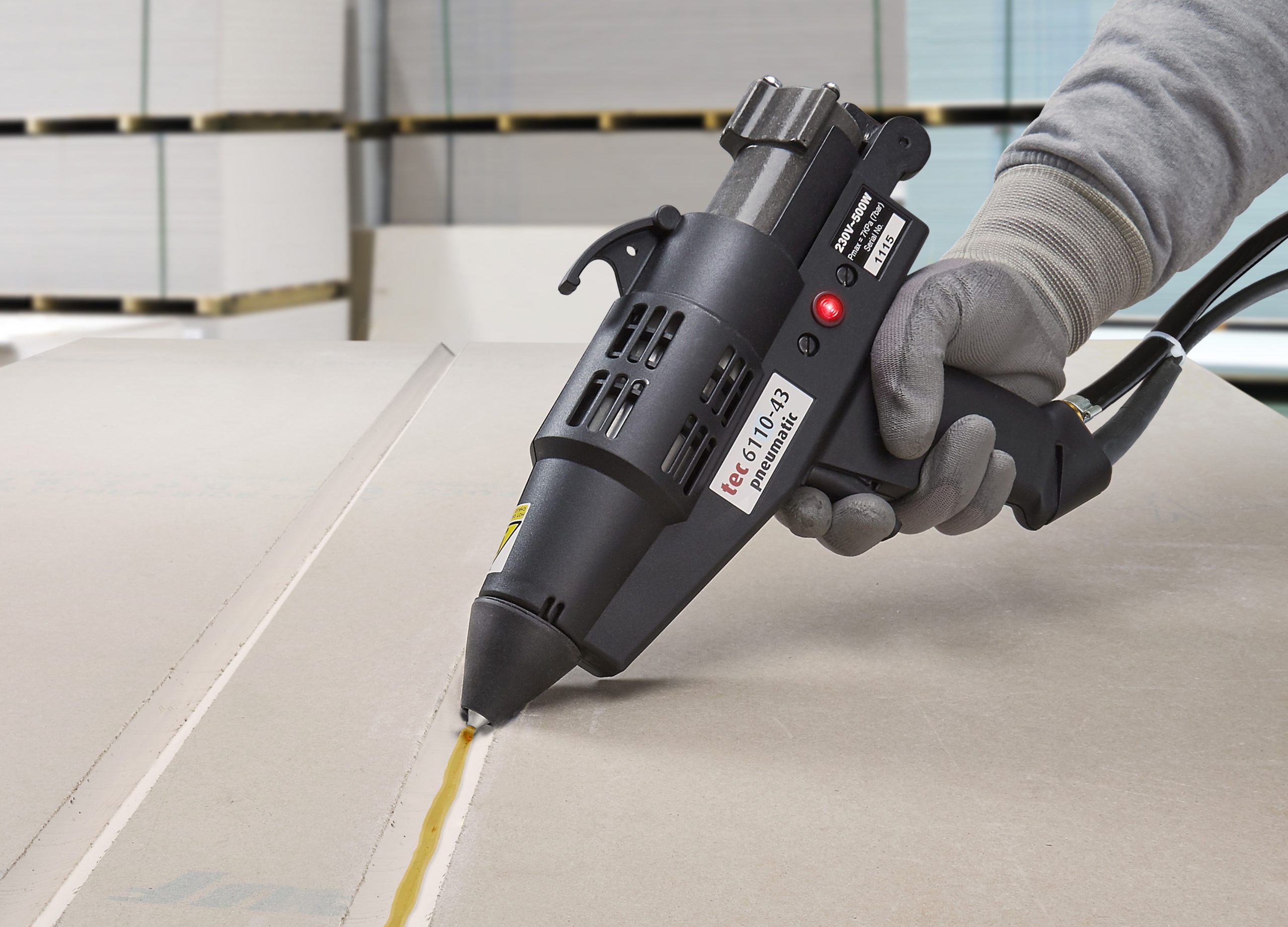 Additionally, tapes and other adhesives require surfaces to be primed before they can be applied. Groovtec adhesives can be applied directly into the 'v' groove, decreasing preparation time and reducing extra equipment costs. Furthermore, groovtec adhesives are non-destructive, unlike screws and tacks, which require a (costly and time-consuming) wet finish to cover the holes created.
To speed up application, we recommend applying groovtec adhesives with the tec range of pneumatically powered glue guns. After initial warm-up, both the tec 6110 and 7100 will melt adhesive on-demand, allowing the tools to run all day with no downtime. These output speeds, together with the adhesive's long open time, ensure longer grooves can be filled without the adhesive losing tack before the bond is made.
For applications where a lower volume of glue is required, groovtec 523 is also available in 15mm sticks, expanding the number of options available to the user.
Groovtec adhesives are free from organic solvents and harmful chemicals, negating the need for respiratory PPE during the application process. They are also clean to handle, with a near-unlimited shelf life and no expiration risk. This long shelf life almost eliminates waste, as any adhesive left in the gun is simply remelted the next time the tool is switched on.
For additional information on the groovtec system or if you would like to request a sample, do not hesitate to contact our sales team.
tel: +44 (0)1268 885801