A staple of the tecbond range and one of the more popular shaped hot melt adhesives on the market, tecbond 23 is designed to offer superior bonding on the most commonly used building materials.
Tecbond 23 is an EVA-based, multi-purpose hot melt adhesive that provides excellent bonds on a wide variety of materials, including hard and soft woods, ceramics, fabrics, and many plastics.
Unlike traditional sealants and superglues, tecbond 23 won't dry out or cure after several uses. Any unmelted glue stays in the gun and can be used the next time it is switched on. Plus, hot melts have an unlimited shelf life and generate almost no waste product.
Due to its ability to bond hardwoods so effectively, tecbond 23 is an ideal adhesive for hardwood flooring installation. Alongside bonding starter strips, skirting boards, and beading, tecbond 23 can also be used to bond transition strips between rooms.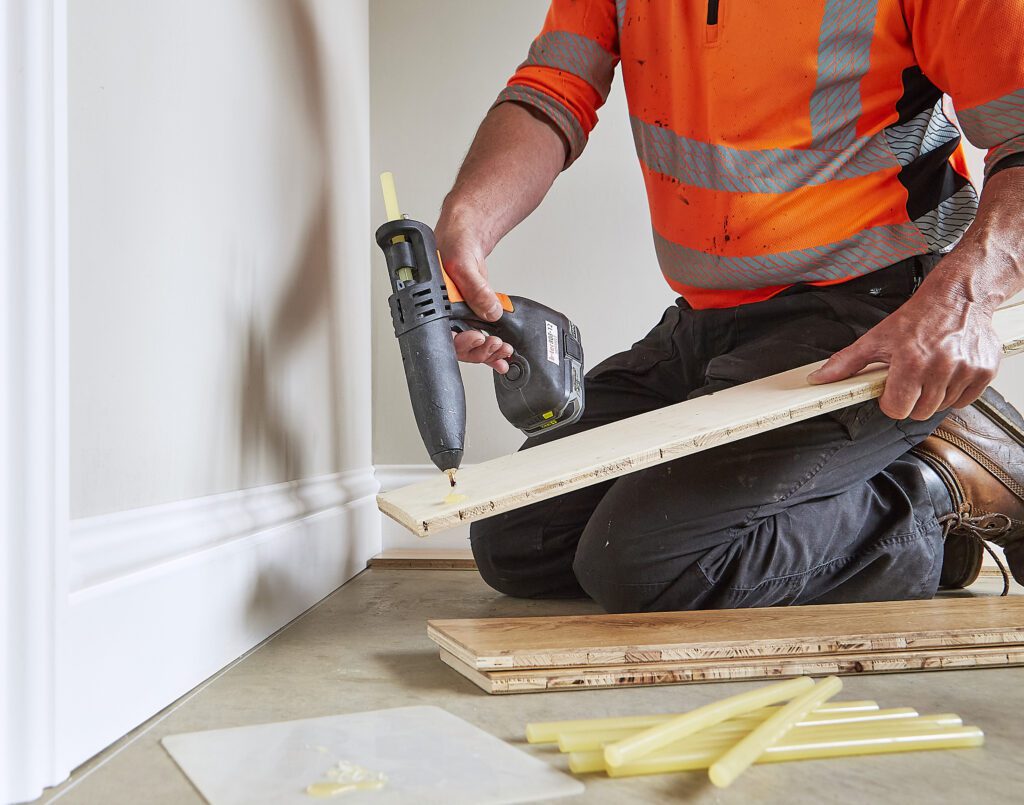 Tecbond 23 is also ideal for temporary flooring, as the bond is much easier to remove than traditional sealants or cyanoacrylates. Tecbond 23 bonds can be softened using a heat gun, at which point the materials can be separated. Sealants and cyanoacrylates require harmful chemicals and solvent-based cleaning solutions to dissolve their bonds, a process that is not only potentially dangerous for the user but also complicated when trying to remove flooring.
Complementing its bonding ability, tecbond 23's other unique selling point is its longer open time. After application, tecbond 23 will remain tacky for over 10 seconds under ideal conditions, therefore extending the overall working time and allowing for precise positioning of the substrates before compression. Upon compression, the adhesive will provide an almost instant hold and requires minimal compression time before a bond is made.
Part of the tecbond range of shaped adhesives, tecbond 23 is available in 12 and 15mm sticks as well as 43mm slugs and bulk slats, making it compatible with all forms of adhesive dispensing equipment. A tried and tested formulation, the adhesive works best with the range of tec applicators. These tools have been produced in partnership with tecbond adhesives to ensure consistent results and minimum effort for the user.
For more information on tecbond 23, or any other products in the tec and tecbond range, please contact our sales team.
+44 (0)1268 885 801